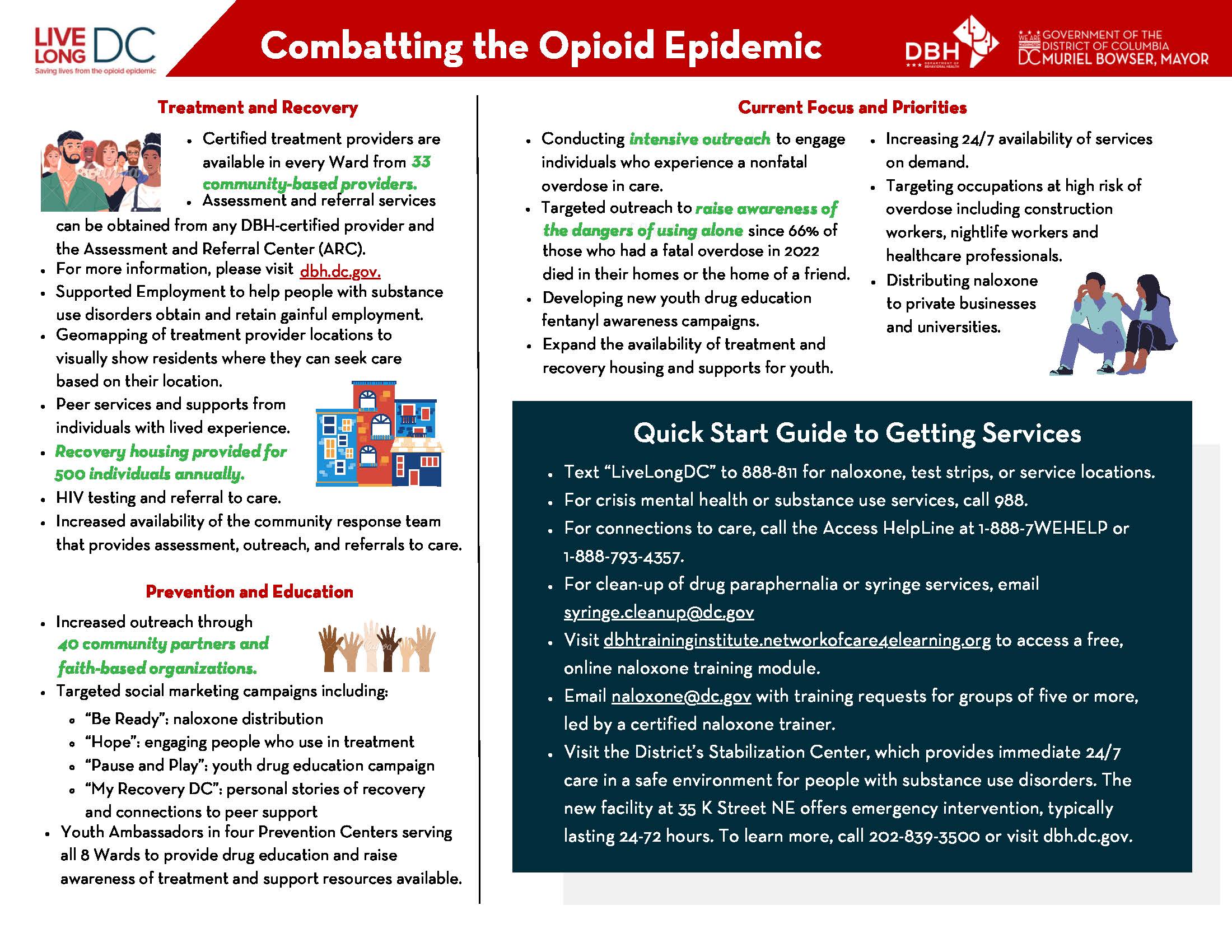 We are committed to reversing the opioid epidemic in Washington, DC! We are working across District government agencies, federal government agencies, medical/hospital leaders, advocates, providers and the community to ensure we have a collaborative and comprehensive approach to end this crisis. This is a collective responsibility; a shared effort to ensure each resident in Washington, DC has the proper supports to live an opioid free life.
Click on image to enlarge thumbnail
Prevention
Preventing the onset of opioid use among youth and reducing substance use risk factors for adolescents, families and communities is key! Changing perceptions, attitudes, behaviors and local conditions that increase the risk of opioid use are primary goals of our prevention efforts.
Prevention Campaigns
We have developed an ongoing set of public awareness campaigns to share information about the dangers of opioid use. These campaigns target those that are most likely to be exposed to opioids or those who are most susceptible to opioid overdose.
Below is a list of active prevention campaigns:
DC Prevention Centers are designed to strengthen the community's capacity to prevent and curtail the use of drugs at the local level. Each center focuses on building collaborations and partnership across all eight wards to promote healthy drug-free living.
The staff at each Center works with communities and neighborhoods to provide substance use education, engage community leaders, youth and families in taking action to reduce the risks and use of opioid use and addresses local conditions and elements that lead to substance abuse.
DC Prevention Centers are conveniently located throughout the city serving residents in Washington, DC. Each Center serves two ward designations. There is a Center for Wards 1 & 2; Wards 3 & 4, Wards 5 & 6, and Wards 7 & 8.
Harm Reduction
Naloxone
Naloxone is a lifesaving medication that helps reverse opioid overdoses. Naloxone is FDA-approved and can be easily administered by non-medical professionals. It works relatively quickly, is painless, requires no assembly and contains a pre-measured dose to reduce medication dosing errors.
We encourage opioid users and their family and friends to keep naloxone around at all times. Having this medication quickly accessible can help to save lives.
In need of naloxone? There are a number of ways to get it:
Text "LiveLongDC" to 888-811 to find out where you can receive free naloxone kits.
The online naloxone training module can be accessed for free at any time at Overdose Prevention and Naloxone (Narcan®) Education - Community.
Training requests by a certified naloxone trainer for groups of five or larger can be made by emailing

[email protected]

.
Syringe Services Program (Needle Exchange)
The DC Needle Exchange Program is a use harm reduction strategy aimed at reducing the spread of infection through unclean needles and connecting individuals to opioid treatment.
We support three Washington, DC based syringe exchange service providers. Find out more here.
Treatment
Access to quality treatment is important for individuals as they make the decision to start the treatment process for opioid use disorder. Washington, DC is well equipped with multiple options that are designed to provide the best and the most appropriate level of care for those seeking treatment.
Our Assessment and Referral Center (ARC) provides same-day assessment and referral for individuals seeking treatment for opioid addiction (and all substances). The Department of Behavioral Health has qualified clinicians onsite to conduct a comprehensive assessment that includes the nature of the addiction, use history, any mental health care needs and overall health status. Once the appropriate level of care is determined, an individual can choose from a list of certified providers for treatment that is tailored to his/her personal experience and life circumstances.
Services include withdrawal management, treatment (including medication assisted treatment), individual and group counseling, self-help and recovery activities, and, in some cases, residential treatment. Women can bring their children under 10 years old to live with them in certain residential programs.
If you need help with your opioid addiction, call the 24/7 Access HelpLine at 1(888) 793-4357 or visit the ARC Monday through Friday, 7 am to 6 pm, at 77 P Street, NE, Washington, DC, 20002.
Certified Substance Use Treatment Providers
The DC Department of Behavioral Health certifies providers to deliver services that support individual recovery with qualified, culturally competent staff in a safe facility. Services include diagnostic assessment, medication, counseling and community support. Providers are located across the District. Individuals can choose the one that best serves their needs from the list provided on https://dbh.dc.gov/services.
Medicated-Assisted Treatment (MAT)
Medication-assisted treatment (MAT), including opioid treatment programs (OTPs), combines behavioral therapy and medications to treat substance use disorders. Search the following link to get contact information for OTPs (methadone) in the District of Columbia: https://dpt2.samhsa.gov/treatment. Search the following link to get contact information for buprenorphine-waivered practitioners: https://www.samhsa.gov/medication-assisted-treatment/practitioner-program-data/treatment-practitioner-locator.
My Rides

My Rides transportation program offers no cost rides to initial treatment appointments for eligible clients who have an opioid use disorder residing in the District of Columbia.
Treatment Services for Adolescents
The DC Department of Behavioral Health offers treatment and support for teens and young adults up to age 21 seeking help for drug or alcohol challenges. Call any of the certified community-based providers listed below for an appointment.
Federal City Recovery Services (Ward 6)
316 F Street, NE, Suite 118
(202) 710-1850
Hillcrest Children's Center (Ward 4)
244-46 Taylor Street, NW
(202) 232-6100
Latin American Youth Center (Ward 1)
1419 Columbia Rd., NW
(202) 319-2229
Prescription Drug Monitoring Program
Our Prescription Drug Monitoring Program (PDMP) aims to improve our ability to identify and reduce the misuse of prescription drugs in an efficient and cost effective manner that will not impede the appropriate medical utilization of controlled substances; and to enhance patient care by providing prescription monitoring information to prescribers that will assure legitimate use of controlled substances in health care, including palliative care, research and other medical and pharmacological uses.
Recovery
Recovery from opioid addiction is possible. We want to make sure that all Washington, DC residents have the proper supports needed for wherever they may be on their recovery journey.
Freedom from addiction is essential to one's wellness and ability to live long. Millions of lives have been transformed through recovery and are living proof that prevention works, treatment is effective and recovery is possible.
Our Recovery Support Services include the following:
Recovery Support Evaluation
Care Coordination Services
Recovery Coaching and Mentoring
Life Skills Support
Education Support Services (individual and group options)
Transportation (public only)
Environmental Stability
Supported Employment
Supported Housing
To learn more about Recovery Support Services, please contact:
[email protected]
(202) 673-4377
MyRecovery is a public education campaign with an online service that helps DC residents who use opioids, alcohol, and other drugs find treatment and recovery services in their neighborhood. As part of Live.Long.DC, this program of the District of Columbia Department of Health (DC Health) seeks to increase the use of the District's treatment and recovery services by increasing access to and reducing the stigma surrounding drug use and treatment. MyRecoverydc.org includes real stories of recovery, a connection to Certified DC Peers, and a directory of treatment and recovery services by Ward. To get connected to a DC Certified Peer, please visit MyRecovery DC.
Marketing Materials
Order free education materials on how to use naloxone, how to use fentanyl test strips, DC's Good Samaritan Law, and MyRecovery website
We have two campaigns, Be Ready and MyRecoveryDC available to you.
Be Ready is a harm reduction campaign to promote access to naloxone (also known as NARCAN®) which reverses an overdose from opioids, including fentanyl, which is now in many different types of street drugs in the District.
MyRecoveryDC uses real stories of DC peers to encourage opioid users to consider treatment, even if they've tried before. The MyRecoveryDC website has video profiles of peers, information about treatment and recovery services available, and a button to request a peer to contact you.