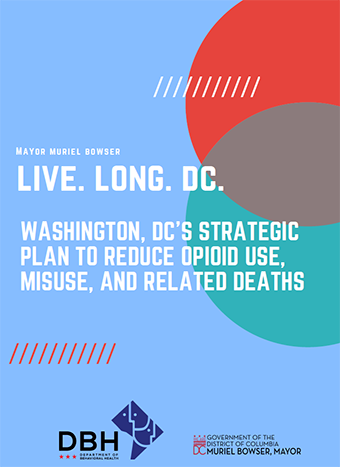 Since October 2017, the District government has convened a group of diverse stakeholders, including more than 100 individuals from over 40 stakeholder groups, to collectively understand the city's opioid crisis and establish a coordinated multi-stakeholder approach to comprehensively address the epidemic. By sharing data, discussing initiatives and best practices, and identifying common approaches, these stakeholders have supported the development and implementation of "LIVE.LONG.DC.", Washington, DC's Strategic Plan to Reduce Opioid Use, Misuse, and Related Deaths. The comprehensive strategic plan covers prevention, treatment, and recovery supports through seven goals, with 50 associated strategies, all aimed at reducing opioid use, misuse and opioid-related deaths by 50% by 2020. Since its publication in December 2018, we have seen a number of early successes including:
The successful reversal of 85% of all reported overdoses due to the administration of naloxone;
A reduction in the death rate due to opioids by 31% (subject to change once the fatal overdose data has been finalized);
Enactment of the provisions in the SAFE DC Act, which criminalizes synthetic drugs, including variants of fentanyl, based on the class of the chemical compounds, rather than the individual compound, strengthening law enforcement officials' ability to test for and prosecute cases against sellers and distributors of these drugs;
Extension of emergency legislation to make opioid testing kits legal;
Better characterization of the supply of illegal opioids, including the discovery of new opioids, through advanced testing at the Department of Forensic Sciences (DFS) opioid surveillance lab;
The launch of social marketing campaigns, including anti-stigma campaigns, to increase awareness about opioid use, treatment, and recovery; and
A contract awarded for the implementation of Screening, Brief Intervention, Referral, and Treatment (SBIRT) in three emergency departments and the induction of MAT, in conjunction with peer engagement and referrals to community services and supports.
Read our strategic plan here.[PDF]
Read our LIVE. LONG. DC. Overview Document. [PDF]
LIVE.LONG.DC. is Washington, DC's Strategic Plan to reduce opioid use, misuse and related deaths.
Track our progress through our monthly reports:
April 2019-Monthly Progress Report-LIVE. LONG. DC. [PDF]
May 2019-Monthly Progress Report-LIVE. LONG. DC. [PDF]
June 2019-Monthly Progress Report-LIVE. LONG. DC. [PDF]
July 2019-Monthly Progress Report-LIVE. LONG. DC. [PDF]
August 2019-Monthly Progress Report-LIVE. LONG. DC. [PDF]
September 2019-Monthly Progress Report-LIVE. LONG. DC. [PDF]
October 2019-Monthly Progress Report-LIVE. LONG. DC. [PDF]
November 2019-Monthly Progress Report-LIVE. LONG. DC. [PDF]
December 2019-Monthly Progress Report-LIVE LONG DC [PDF]
January 2020-Monthly Progress Report-LIVE. LONG. DC. [PDF]
February 2020
Accomplishments, Summit Report, DFS Report, OCME Reports, DBH/DHCF Report
October 2019
Accomplishments, Summit Reports
April 2019
Accomplishments, Summit Reports
January 2019
Accomplishments, Summit Reports
July 2019
Accomplishments, Summit Reports
November 2018
Accomplishments, Summit Reports
August 2018
Accomplishments, Summit Reports
May 2018
Accomplishments, Summit Reports
March 2018
Accomplishments, Summit Reports
October 2017
Accomplishments, Summit Reports